Inhalator membranowy TM-NEB NANO TECH-MED
Inhalator membranowy TM-NEB NANO TECH-MED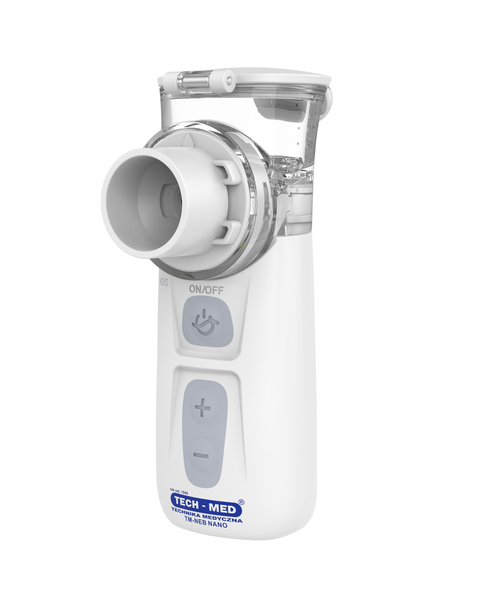 Inhalator membranowy TM-NEB NANO TECH-MED
REWOLUCYJNA TECHNOLOGIA MicroWave®.
Regulacja natężenia nebulizacji.
Kompaktowy rozmiar, bardzo cicha praca oraz wbudowany akumulator czynią go jeszcze wygodniejszym.
Urządzenie przenośne


Wbudowany akumulator litowo-tytanowy o wysokiej wytrzymałości i długiej żywotności

Bardzo cicha praca

Wysoka frakcja respirabilna oraz małe rozmiary cząsteczek potwierdzone testami

Optymalne wykorzystanie leku dzięki zastosowaniu pochylonego dna komory na lek

Trwała membrana polimerowa


Dwa tryby nebulizacji: regulowany i mikrofalowy
Zastosowanie nowoczesnej technologii w inhalatorze TM-NEB NANO sprawia, że drgania membrany powodują rozbijanie cieczy do wszystkich tych rozmiarów cząsteczek, bez nagrzewania się membrany, przez co struktura leku na poziomie molekularnym nie ulega zmianie. Dzięki temu sprawdza się on zarówno przy podawaniu leków, np. w astmie,
jak i w leczeniu przeziębienia. Dokładność urządzenia jest testowana w procesie produkcji.
Opis produktu
Inhalator posiada dwa tryby nebulizacji: tryb mikrofalowy (technologia MicroWave®) i tryb nebulizacji regulowanej.

Tryb nebulizacji regulowanej
Aby regulować natężenie nebulizacji należy ustawić jej poziom przyciskami "+" i "-". Ten tryb uruchamia się jako pierwszy przy włączeniu urządzenia. Pozwala to na dowolną regulację natężenia nebulizacji w zależności od potrzeb użytkownika. Jeśli nebulizowana jest osoba dorosła należy zwiększyć natężenie, jeśli dziecko zmniejszyć. W ten sposób zwiększamy efektywność nebulizacji oraz jej skuteczność. Dioda w tym trybie świeci się na zielono.

Tryb mikrofalowy
Technologia MicroWave® to nowoczesna metoda nebulizacji, dzięki której odpowiednia ilość leku dłużej pozostaje w organizmie. Nebulizacja zaczyna się z maksymalną prędkością 0,7 ml/min, a po ok. 3 sekundach stopniowo spada do 0,25 ml/min, wracając ponownie po ok. 3 sekundach do maksymalnej prędkości 0,7 ml/min, stąd określenie "nebulizacja falowa". Taki rozkład prędkości nebulizacji pozwala optymalnie dostosować ją do oddechu użytkownika, dzięki czemu przy wdechu pacjent dostaje duży "zastrzyk" leku w postaci aerozolu, tym samym nie zużywając go w nadmiarze (0,25 ml/min) podczas wydechów. Minimalizuje to zużycie leku, a także jego nadmierną kumulacje w organizmie.
Kompaktowy rozmiar, bardzo cicha praca oraz wbudowany akumulator czynią go jeszcze wygodniejszym.
Ważne informacje
W inhalatorze TM-NEB NANO można stosować leki przeznaczone do inhalacji w inhalatorach membranowych. Takie informacje zawarte są w charakterystyce produktu leczniczego (ulotka przylekowa) danego preparatu. Przed zastosowaniem należy się z nią zapoznać. Nie wolno stosować substancji oleistych (olejków eterycznych i innych na bazie olejów produktów, płynów które zawierają tłuste lub zawieszone cząstki). Nie należy stosować preparatu nebu-dose hialuronic oraz nebu-dose plus, ponieważ preparat ten wykazuje optymalne działanie tylko przy użyciu inhalatorów pneumatyczno-tłokowych, w związku z czym mogą wystąpić problemy w przypadku stosowania z innym typem inhalatora.
Specyfikacja    
Pojemność komory maks. 6 ml

Szybkość nebulizacji: 0,15 ml/min - 0,90 ml/min

Wielkość cząstek MMAD < 5 μm ±25%


Frakcja respirabilna – 99%

Praca w każdej pozycji (nawet komorą w dół max. 15 sekund)

Wykrywanie braku lub małej ilości leku

Automatyczne wyłączanie

Aż 60 min ciągłej pracy na jednym ładowaniu

Całkowity czas naładowania akumulatorów: 2 godziny

Zasilanie: akumulator litowo tytanowy. Ładowarka DC 5,0V, 1,0A (w zestawie)

Masa: ok. 109 g

Wymiary: 60 mm x 45 mm x 109 mm

Pobór mocy: < 4,0 W

Hałas: <50 dB

Gwarancja: 36 miesięcy

Wyrób medyczny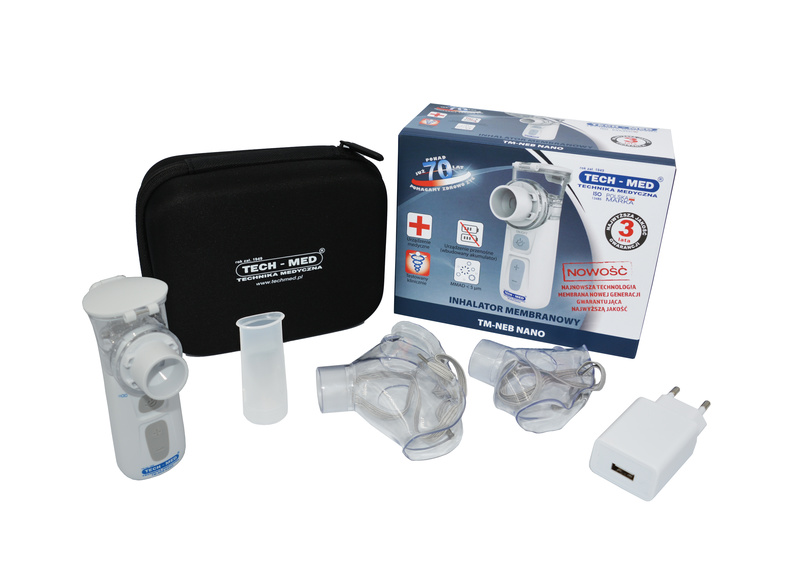 Skład zestawu
Inhalator TM-NEB MICRO NANO


Maska dla dzieci

Maska dla dorosłych

Ustnik

Ładowarka USB


Etui transportowe

Instrukcja obsługi w języku polskim
Ważne informacje

Szerokość towaru w centymetrachMore
Szerokość towaru w centymetrach
20More
Szerokość towaru w centymetrach
Wysokość towaru w centymetrachMore
Wysokość towaru w centymetrach