ABOUT US
WE'VE BEEN HELPING PEOPLE LIVE HEALTHILY FOR MORE THAN 70 YEARS
TECH-MED is a family-owned company that has been on the Polish medical market continuously since 1949. . Such experience is our great asset. We have been a recognized manufacturer, exporter and importer of medical equipment for many years. We can boast of many patented designs, which are our contribution to the development of the Polish Health Service. We have established an efficient distribution network and service network. With these foundations, we can look boldly into the future. We attach great importance to modern forms of sales, so you can browse the offer in our product catalog at www.techmed.pl and purchase the necessary medical equipment directly from our online store.


TECH-MED offers top-of-the-line medical equipment for use in Health Care Units as well as devices for use at home.Electronic blood pressure monitors, electronic thermometers, bathroom scalesare just some of our devices, which are recognized among buyers. A great advantage of our company is that when purchasing a thermometer, blood pressure gauge, inhaler, breathalyzer or scale from us, you can also count on the advice of a consultant when selecting a device. It is also worth checking the information on a particular issue in the mini-guides we have prepared, Do you want to live healthily? Check out our offer.


Today's TECH-MED has a dynamic management and highly qualified staff. We offer top-class medical equipment for use in Health Care Units as well as devices for use at home. We believe that the innovative technologies we offer should serve the health of people and thus the whole society. We combine access to the latest global technologies with our experience and company tradition - thus offering products at the highest level of functionality and safety.


,




We also offer our Business Partners training and consultation on sales techniques and professional and effective presentation of our medical equipment. This ensures that the electronic scale, electronic blood pressure monitor, electronic thermometer, inhaler or breathalyzer presented to our customers and all related knowledge is conveyed professionally and fully.
To meet the needs of our customers, we have established an extensive service network throughout the country. Our equipment such as electronic scales, bathroom scales, thermometers, blood pressure monitors, inhalers, breathalyzers, among others, is also covered by a long-term warranty - in case of trouble, you can always contact our service centers, where you can count on help.




MISSION OF THE COMNPANY




TECH-MED'Sgoal is to provide our customers with entire sets of equipment that are an aid to maintaining good health, excellent form and, as a result, preventing the development of diseases. To this end, we use advanced technologies, which we improve through close cooperation with medical institutions. Medical institutions, including health care facilities, thanks to their research and years of experience, have concentrated, specialized knowledge. Our goal is to disseminate this knowledge to the public using state-of-the-art digital equipment.


TECH-MED has been on the Polish market continuously 1949Such a long experience is our great asset. For years we have been We can boast of many patented designs, which are our contribution to the development of the Polish Health Service. For many years, we have built an extensive today and efficient distribution and service network.
All TECH-MED employees are actively involved in implementing TECH-MED's quality policy. In our company, we define quality as meeting customers' requirements the first time, every time, and always on schedule. . All of the devices we manufacture are covered by the ISO13485 Integrated Quality Management System and are EC Certified - ensuring the highest quality production for medical devices is our priority. This guarantees compliance with the requirements of Polish and European Union law.The quality of TECH-MED products and services TECH-MED is controlled in detail by auditors of a notified body authorized by the Ministry of Health from the design stage through production to post-warranty service.
Sprzęt medyczny TECH-MED medical equipment is registered as medical devices with the OFFICE OF REGISTRATION OF MEDICAL PRODUCTS, MEDICAL PRODUCTS AND BIOBEDICAL PRODUCTS..


CONSUMER QUALITY LEADER

Confirmation of the highest quality of the products offered is the opinion of the market documented by winning the gold emblem Consumer Quality Leader 2013, 2014, 2016, 2017 and in the category "Pressure gauges and thermometers".
TECH-MED brand was awarded the title: Consumer Leader of Quality - Leader of the Decade 2011-2021.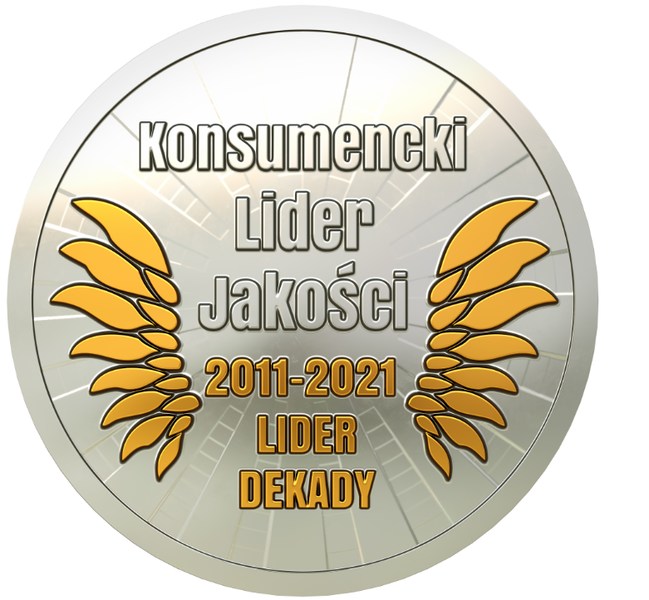 Consumer Quality Leader - Leader of the Decade 2011-2021 is a summary of 10 years of nationwide consumer surveys, in which nearly 130,000 respondents took part over ten years.
CERTYFIKATY