Wrist blood pressure monitor KTN-01 KARDIO-TEST
Memory: 2x120
Cuff: 12.5-21.5 cm
Power supply: 2 AAA batteries
Technology: MDD (measurement while deflating the cuff)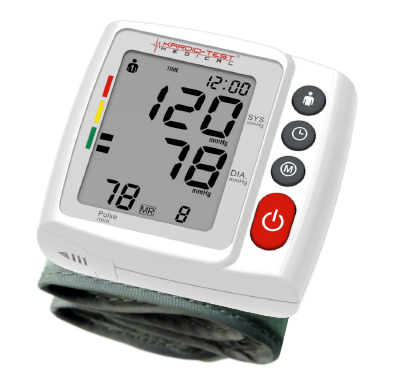 Wrist blood pressure monitor KTN-01 KARDIO-TEST
Highest accuracy, reliability, comfort of measurement
Two memory channels for 120 results
Product description
KARDIO-TEST MEDICAL KTN-01 is a modern electronic blood pressure monitor, which uses
the oscillometric measurement method. The blood pressure monitor is characterised by high
measurement accuracy - equivalent to that of auscultatory measurements made with
mechanical sphygmomanometers (doctor's blood pressure monitors) by qualified medical
personnel. This accuracy has been confirmed by studies.
Taking an accurate blood pressure measurement is extremely easy - it only requires the
press of a single button. The large ergonomic LCD display ensures easy reading of the
Thanks to the arrhythmia detection function, a signal is given if a doctor needs to diagnose
arrhythmia. The classification of the blood pressure level according to World Health
Organisation (WHO) standards allows the measured blood pressure to be interpreted
independently. A memory function allows the measured values to be displayed together
with the date and time of measurement. An automatic switch-off function reduces battery

The KTN-01 wrist blood pressure monitor provides the highest - clinical - accuracy of blood
pressure and pulse measurement readings. It is a medical device approved for use in Health
The KTN-01 blood pressure monitor is registered as a medical device with the Office for
Registration of Medicinal Products, Medical Devices and Biocidal Products, which guarantees
a high accuracy of readings.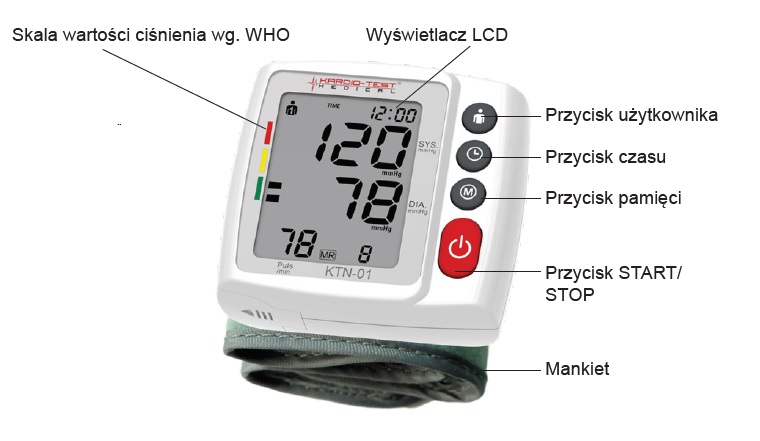 Specifications
Quick and highly accurate measurement

Fully automatic, simple one-button wrist measurement

Elegant and robust case

Detects symptoms of cardiac arrhythmia (IHB)

Blood pressure level indicator according to WHO classification

Digital display showing clear results

Universal cuff: 12.5 cm - 21.5 cm

Memory function: 120 last results for 2 users (pressure, heart rate, date and time)

Pressure measurement range: 30 - 280 mmHg

Heart rate measurement range: 40 - 200 beats/minute

​Accuracy: SYS/DIA: ±3mmHg / Heart rate: ±5% of reading

Power supply: 2 "AAA" 1.5V batteries

Dimensions: 69 mm x 63 mm x 29 mm

Weight: 133 g±5g (including cuff and batteries)

Medical device
Composition of the set
Blood pressure monitor with wrist cuff

Case

2 "AAA" batteries

Warranty 24 months

User manual in Polish, English, German and Ukrainian