Termometr elektroniczny bezdotykowy HeTaiDa HTD8816C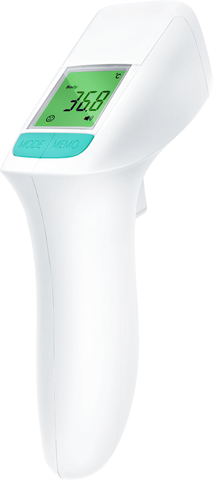 Termometr bezdotykowy HeTaiDa HTD8816C

Najwyższa dokładność, wiarygodność, szybkość pomiaru

Funkcja alarmu w przypadku podwyższonej temperatury ciała

Funkcja pamięci z zachowaniem wartości 50 ostatnich wyników pomiaru

Podświetlany wyświetlacz cyfrowy LCD

3 kolory podświetlenia ekranu

Niewielki rozmiar, przemyślana konstrukcja i wygodna obsługa
Opis produktu
Termometr bezdotykowy HeTaiDa HTD8816C na podczerwień zaprojektowano do pomiaru temperatury ciała lub wybranej powierzchni przy użyciu technologii promieniowania podczerwonego. Termometr na podczerwień nie jest inwazyjny, więc jest łatwiejszy i wygodniejszy w użyciu niż tradycyjne termometry doustne, pod ramię, doodbytnicze lub douszne. Jest rzeczywiście "bezkontaktowym" termometrem. Umożliwia pomiar temperatury ciała dorosłych i dzieci bez konieczności dotykania skóry. Dzięki termometrowi HeTaiDa HTD8816C nie ma potrzeby wprowadzania sondy termometru do jakiejkolwiek części ciała twojego niemowlęcia. Śpiące niemowlę nie obudzi się podczas kiedy termometr będzie w użyciu ani nie odczuje żadnego dyskomfortu podczas jego użycia kiedy nie śpi.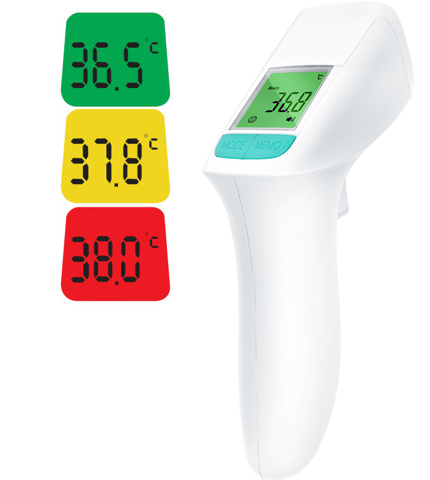 Podstawowe cechy termometru bezdotykowego HeTaiDa HTD8816C

Termometr HeTaiDa HTD8816C to nowoczesne, niewielkich rozmiarów urządzenie do pomiaru temperatury ciała i obiektów przy użyciu detekcji promieniowania podczerwonego najwyższej klasy.

Urządzenie sygnalizuje kolejne stopnie temperatury poprzez  kolor podświetlenia wyświetlacza (

zielony

, żółty i

czerwony

) oraz sygnał dźwiękowy.

Bardzo szybki pomiar ≤ 2 sekundy

Funkcja pamięci z zachowaniem wartości 50 ostatnich wyników pomiaru.

Dwa tryby pomiaru temperatury: skala Fahrenheita i Celsjusza, do wyboru.

Tryb automatycznego oszczędzania energii; termometr wyłącza się, jeśli nie jest używany.

Niewielki rozmiar, przemyślana konstrukcja i wygodna obsługa.
Termometr HeTaiDa HTD8816C wyposażony jest w dwie metody dokonania pomiaru w trybie BODY (CIAŁO):

1. "SZYBKI POMIAR" - krótkie wciśniecie przycisku ON/SCAN, a następnie jego puszczenie pozwala na dokonanie pomiaru w ok. 2 sekundy.
Potwierdzeniem tego pomiaru są 3 krótkie sygnały dźwiękowe i czwarty długi.
Ten tryb wykorzystywany jest to szybkiej analizy temperatury ciała lub do dokonania kilku pomiarów po sobie.

2. "SKANOWANIE" - wciśnięcie przycisku ON/SCAN i jego przytrzymane pozwala na dokonanie pomiaru całego czoła (od lewej do prawej lub odwrotnie) w czasie ok. 4 sekund.
Potwierdzeniem tego pomiaru jest 6 krótkich sygnałów dźwiękowych i siódmy długi.
Jest to unikatowa funkcja, pozwalająca na dokonanie pomiaru na całym czole, tak aby określić najwyższą temperaturę podczas jednego badania bez potrzeby dokonywania kilku pomiarów w kliku różnych miejscach. Skraca to zdecydowanie czas pomiaru i pozwala uniknąć sytuacji, kiedy to u badanego podczas kilku pomiarów na czole mamy różne wyniki. Termometr podczas tej metody pokaże na wyświetlaczu najwyższą zmierzoną temperaturę podczas skanowania.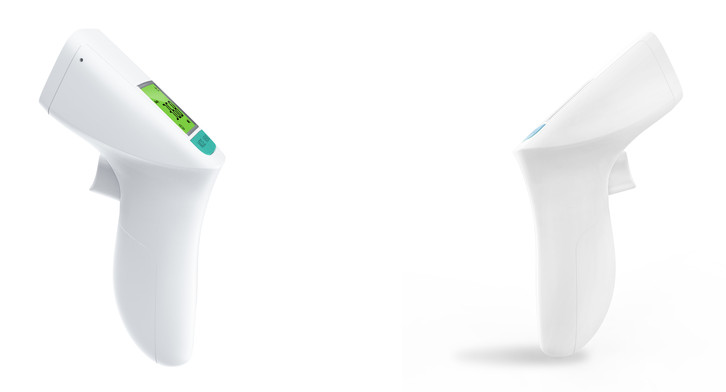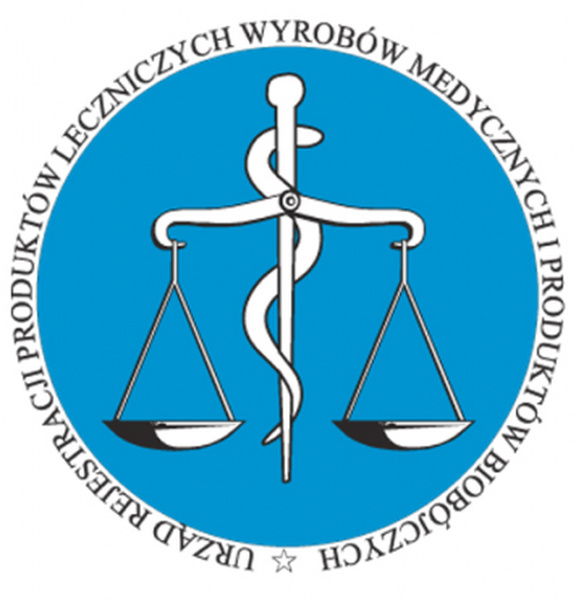 Termometr HeTaiDa HTD8816C zapewnia najwyższą - kliniczną dokładność wskazań pomiaru temperatury, jest on urządzeniem medycznym używanym w Jednostkach Służby Zdrowa.

Termometry są zarejestrowane jako urządzenia medyczne w URZĘDZIE REJESTRACJI PRODUKTÓW LECZNICZYCH, WYROBÓW MEDYCZNYCH I PRODUKTÓW BIOBÓJCZYCH, co gwarantuje wysoką dokładność ich wskazań.
Idealny w domu i w podróży
Termometr wielofunkcyjny HeTaiDa HTD8816C pozwala na dokonanie pomiarów temperatury u dzieci i osób dorosłych w niemal każdych warunkach: w domu, pracy, podróży. Wyniki tych pomiarów charakteryzują się kliniczną dokładnością. Pomiary są błyskawiczne (czas pomiaru ≤ 2 sekundy), dzięki czemu termometr może być używany do pomiarów temperatury u nawet bardzo ruchliwych dzieci. Błyskawicznie również wykonamy pomiary temperatury otoczenia, żywności, napojów i kąpieli dla dziecka.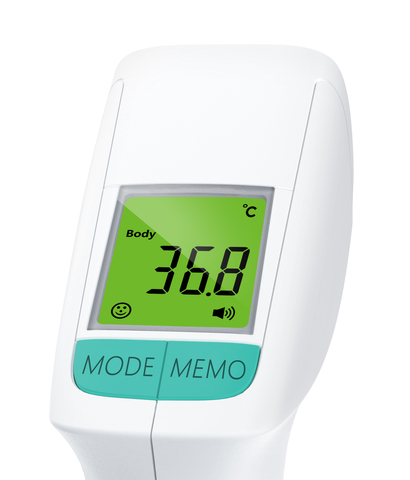 Specyfikacja
Termometr służy do pomiaru temperatury na czole, temperatury przedmiotów (np.mleka w butelce)

Urządzenie sygnalizuje kolejne stopnie temperatury poprzez  kolor podświetlenia wyświetlacza (zielony, żółty i czerwony) oraz sygnał dźwiękowy

Czas pomiaru: ≤ 2 sekundy
Podświetlany wyświetlacz cyfrowy LCD

Wybór trybu pomiaru temperatury na czole w zakresie 34,0-42,9°C lub powierzchni przedmiotów w zakresie 0,0-100°C

Dwie jednostki temperatury: skala Fahrenheita i Celsjusza do wyboru

Funkcja pamięci z zachowaniem wartości 50 ostatnich wyników pomiaru

Margines błędu pomiaru: w standardowych warunkach otoczenia: ±0,3°C

Odległość od miejsca dokonywania pomiaru na czole: 1–5 cm

Tryb oszczędzania energii automatyczne wyłączenie: po upływie 18 sekund

Funkcja alarmu w wypadku podwyższonej temperatury ciała

Zasilanie: DC3 V (2 baterie AAA)

Podstawowe wymiary: 147mm × 39mm × 65mm (długość × szerokość × wysokość)

Waga urządzenia bez baterii: 80g
Skład zestawu
Termometr

2 baterie AAA

Instrukcja obsługi w języku polskim

Gwarancja: 24 miesiące